A little back-dated... But I feel like doing fashion reviews today...
One thing I notice about London Fashion Week is that the designs are generally more vibrant with colours and symmetry and very chic rather than the usual typical London fashion...
Let's take a look...
This number is so chic. The upper part is bland but be surprised by the sudden bloom of ruffles.
It is elegant, a little professional, but mostly feminine.
I absolutely love the smart use of lines and symmetry here!
The dress on the left makes someone who is really thin look healthy and sexy.
The dress on the right accentuate all the right places with lines.
An obvious contrast of vibrant colours and typical black chic-ness.
The dress on the left spelt FUN all over it! And I love the design on the waist!!
The piece on the right looks trendy, minus the legging though. I am not really a fan of leggings...
The perfect sweet innocent girl fashion!!
Love the design of the dress on the left with a sudden pout. The top can be matched with some other items too!!
The piece on the right is equally alluring. The top has intricate designs but not too complex.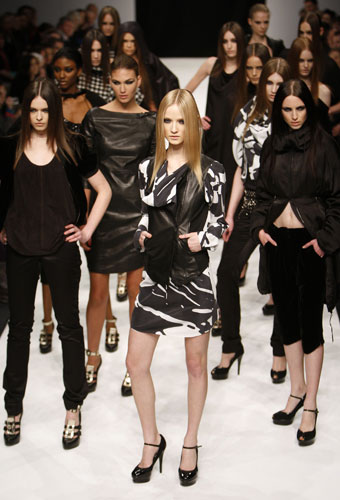 This collection is one fierce collection!!
Perfect dress code for the fashionable powerhouse fabulous girl!!
They present a woman with style and sense yet command attention in a very feminine way!!
I fell in love with the number on the left most. The whole design is so chic!!
The number on the center is not bad too, except for the very weird hair...
The one on the right wasn't really my taste... Too prim and proper... And what's with the hair?
This golden dress is fabolous for partying... Or just a very flashy cocktail dress...
I am more attracted to the piece behind... The very colourful top contrast against black skirt...
Wonderful combination!!
Another brilliant collection with brilliant use of materials and very smart combination of bland colours.
It gives me the feeling of autumn but in a very nice way.
I adore the leather corset on the right!!
Last but not least, diverse use of colours and style!
It feels very china-ish... But the most important thing is that the dresses bring out a cheerful vibe on each model.
Suddenly, I feel like going to shopping again!!
Shopping therapy for screwing Maths finals?